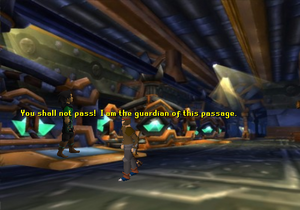 The Deeprun Tram is a train system in World of Warcraft that transports the player between the cities of Stormwind and Ironforge.
In the SFCII it is guarded by a noob.
It is the second WoW area referred to in the CYOA series, the first being Stormwind Keep, which is the background of the area containing the Statue.
Later, in SSFCYOAIII, You and Inferus visit the Stormwind Harbor (or Harbour) as part of the quest to get the Stone of Jas